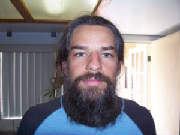 David J. Carpenter has played electric and acoustic bass for 30 years with many of the greats including; J.C. Chasez (NSYNC*), John Doe (X), Grant-Lee Phillips (Grant Lee Buffalo), Victoria Williams, Mark Olson (The Jayhawks), Toni Childs, Jill Sobule, Ali and A.J., Jesse McCartney, Billy Ray Cyrus, Mark McGrath, Wayne Wonder, A.J. Croce, Keith Robinson, Elan Etias, Blu Cantrell, Jadon Lavik, Jeremy Camp, Darius Rucker (Hootie and the Blowfish), Dead Rock West, Bill Medley, Nils Lofgren, Mulberry Lane, Jason Everly, Donna DeLory, Gregory Page, and David Hasselhoff. Dave produced and engineered this album at Big As Records Studios.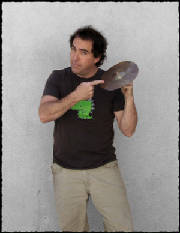 Jason Harnell started playing the drums at the ripe old age of six, when long-time friend of the family, Louie Bellson gave him his first real drum set. Extensive private study was to follow with teachers such as Hank Bellson Shelly Manne, Joe Porcaro, Vinnie Colaiuta, Dave Weckl, Jeff Hamilton, Joe LaBarbara, and Larry Goldings. After attending the University of South Florida, as a jazz performance major, Jason moved to Los Angeles in 1990. Since relocating to Los Angeles, Jason has been very active as a performer and has become one of the most sought after jazz drummers on the West Coast. A partial list of the artists he has collaborated with include: Kei Akagi, Sheryl Bailey, John Beasley, Adam Benjamin, Steve Cardenas, Jay Clayton, Dave Carpenter, Lea DeLaria, Maynard Ferguson, Keith Ganz, Shelia Jordan, Kate McGarry, MOSS (Theo Bleckman, Lauren Kinhan, Peter Eldridge), Josh Nelson, Darek Oles, Jack Reilly, Jack Sheldon, Bob Sheppard, Ron Stout, Steve Tavaglione, Gary Versace, and Ben Wendel. Currently, Jason is leading his own trio featuring Larry Koonse and Joe Bagg as well as being a member of the Matt Otto Quartet (featuring Ryan McGillicudy and Steve Cotter). Jason is also a member of the bassless trio Joe-Less Shoe (with Matt Otto and Jamie Rosenn) who just released their first CD (http://cdbaby.com/cd/joelessshoe).

These days Jason maintains a busy teaching schedule as well. He is currently on faculty at University California Irvine as jazz drum instructor and has been since 2005. He also teaches at the Musicians Institute (P.I.T.) in Hollywood where he instructs private students as well as teaching a class of his own design entitled "Bebop and Beyond: Developing Musical Creativity on the Drum Set.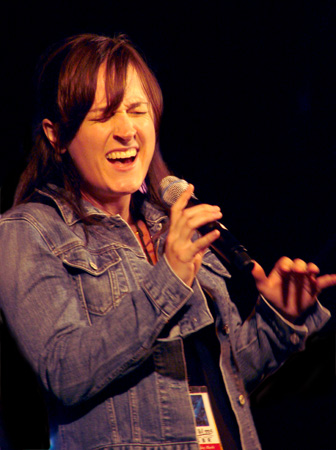 Sara Gazarek appears on track 3, "Enigma" courtesy of Native Language Music.
Born and raised in Seattle, Sara Gazarek was awarded the first ever Ella Fitzgerald Charitable Foundation Outstanding Jazz Vocalist Award at the Essentially Ellington Festival in NYC.
Moving to Los Angeles in 2000 she studied at the Thornton School of Music at USC, under the tutelage of John Clayton, Shelly Berg, Tierney Sutton, and Carmen Bradford. In 2003, Sara was awarded the 2003 Downbeat Student Music Award for Best Collegiate Vocalist. Shortly after the publication hit the press, Sara was asked to perform with Oleta Adams, Karrin Allyson, and Diane Schuur as the "as yet undiscovered talent" on the Concord Jazz Festival tour.
Her first solo ablum ranked in the Top 10 on the Billboard Traditional Jazz Charts, Top 10 on the iTunes top Jazz Album Downloads (US, UK, Switzerland, and Belgium), #1 on the iTunes Top Jazz Album Downloads (Germany, France), #5 on the Jazz Week Radio Charts, #4 on the HMV (Japan) chart. In addition, Sara was voted the #3 Best New Artist in the JazzTimes Readers Poll.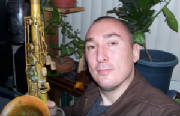 Matt Otto studied music performance and composition at the Indiana University, Berklee School of Music, The New School for Social Research (BFA) and California Institute of the Art (MFA). Having lived in Japan, New York City and Los Angeles he has performed with a variety of artists, including Reggie Workman, Charlie Haden , Larry Koonse, Rashid Bakr, Ben Monder, Wada Leo Smith, Willie Jones III, Anthony Wilson, Alan Ferber, Tom Harrell, Albert "Tootie" Heath, Gregory Hutchinson, Joe La Barbera, Junior Mance, Leroy Vinegar, Jimmy Smith and others. He currently plays and has recorded with the Anthony Wilson Nonet ("The Power of Nine" Groove Note 1035, 2006), Joeless Shoe ( Joeless Shoe, 634479655630, 2007) as well as leading his own groups (53 West 19th, Noir Records 1996), (Red, Origin Records 2000) and appearing on 15 CDs as a side man.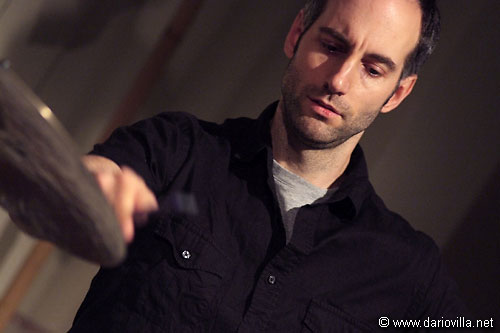 A native of the San Francisco Bay Area, Mark Ferber began
his musical studies at the age of four on the piano,
later followed by drumming and percussion.
Mark attended the University of California in Los
Angeles, where he obtained a B.A. in Geography. In addition, he studied classical percussion with Mitchell Peters and drum set with Billy Higgins. He has distinguished himself on both coasts in live
performances and recordings. In Los Angeles, he performs with Anthony Wilsons Nonet, Billy Childs Chamber Ensemble
and the Bob Sheppard group. A partial list of
playing/recording credits in New York includes Lee Konitz, Don Byron, Fred Hersch, Jonathan Kreisberg, and Ralph Alessi. In addition to being an active freelance drummer, Mark teaches in the United States and Europe. He was a faculty member for the Tavira Jazz Workshop in Portugal, the Kansas University Jazz Workshop in Lawrence and the Maine Jazz Camp. He is an adjunct teacher for both the City College of New York and the School of Improvisational Music (SIM) in New York.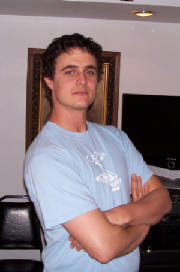 Leonard Thompson was introduced to music at a young age by way of his father, jazz pianist Rex Thompson. Raised in Capistrano Beach, Leonard began playing professionally in the early 1990's in Santa Cruz while getting a degree in geology. Since then, he has been busy as a jazz sideman in both San Francisco, Los Angeles. He has been fortunate to have been a regular member in bands led by Justin Morell, Alex Budman(Contemporary Jazz Orchestra), Eddie Marshall, Harvey Wainapel and Vince Lateano. He has also enjoyed working assocations with vocalists George Hubbard, Michelle Amador, Madeline Eastman, Jackie Ryan, Julie Kelly, Kitty Margolis, Vicki Burns, Stephanie Haynes, Mary Stallings, and Sasha Dobson, as well as appearances with Cleo Laine, Madeleine Peyroux, and Marlena Shaw. Leonard's compositions have gained acclaim among his peers and have been recorded and or arranged by and for various ensembles.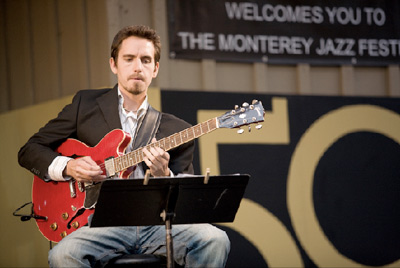 Storm Nilson has studied with jazz legends Charlie Haden and Larry Koonse at California Institute of the Arts in Los Angeles, graduating in December 2004. His musical inspiration is nurtured through his opportunities to play with some of the greats such as Charlie Haden, Steve Cardenas and Wynton Marsalis.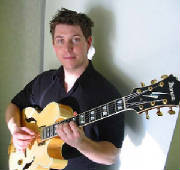 Joel Peloquin is an accomplished and knowlegable teacher, composer, and guitarist. He holds a B.A. from the Berklee College of Music in Jazz Composition and Performance. In addition he has an M.F.A. from the California Institute of the Arts in Jazz Studies. Interests include balance, voice leading, reading, writing, drawing, painting, plant life, in forms and out forms. Currently working on a release of material entitled configurations and improvisations. This is a solo guitar project that will feature traditional, acoustic, and alternate tuned instruments.